Duration: March 2003- Still ongoing
Location: Miandasht Wildlife Refuge, Behkadeh Reserve and Abbas Abad Wildlife Refuge
Implementing Agency: Iranian Cheetah Society (ICS)
Funding Agencies: Iranian Department of Environment, Burger Zoo, Colombus Zoo, Rufford Foundation, and Technical Publication Company
[dt_gap height="10″][dt_divider style="thick"]
As the last stronghold of the critically endangered Asiatic cheetah Acinonyx jubatus venaticus in the world, Iran is home to around 100 cheetahs roaming across desert mountainous areas of eastern half of the big country. It has been recognized to be ecologically different comparing to its African cousins, probably due to distinctive environmental situations. For example, it mainly preys on mountainous ungulates, such as wild sheep and wild goat rather using its high speed to catch fast gazelles. So, it is not strange to see the cheetahs away from the plains up in the mountains, like leopards.
The present project has been carrying out within two only confirmed cheetah habitats in northeastern Iran, namely Miandasht Wildlife Refuge and Behkadeh Reserve. Based on camera trap results and direct observations, it is supposed that no more than 12 cheetahs live in two areas with the higher abundance in Miandasht. However, the Persian gazelle occur in low density due to heavy poaching in previous decades which affect adversly the cheetahs' survival. This project is one of the oldest conservation projects on the Asiatic cheetah in Iran which has helped significantly to increase our knowledge about the Asiatic cheetah in Iran.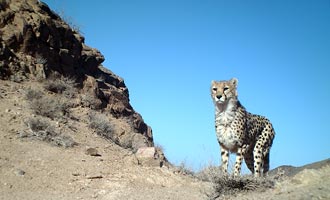 [dt_divider style="thick"]
[dt_gap height="20″]
[dt_gap height="20″][dt_divider style="thick"]
To enhance conservation of the Asiatic cheetah within the last habitats in northeastern Iran through the following objectives:
[dt_divider style="thick"][dt_gap height="20″]
[dt_vc_list style="1″ dividers="true"]
Mapping spatial distribution of the species;
Investigating food habits of species;
Assessment of possible human-cheetah conflicts;
Surveying possible dispersal from the Iranian population into neighboring countries;
Identification of specific threatening factors to the survival of the cheetah;
Training game guards for enhanced conservation measures;
Increasing awareness within local communities.
[/dt_vc_list]
[dt_divider style="thick"]
[dt_gap height="20″][dt_slideshow width="600″ height="375″ posts="cheetah"]