Biodiversity Education Project was launched in March 2010 in Kalmand Protected Area to educate local people about its top predators, including cheetah and leopard as well as its unique biodiversity within the city of Mehriz as well as relevant villages. Kalmand is one of the main hotspots of the endangered Persian leopard in central Iran and is supposed to be among the last refuges of the critically endangered Asiatic cheetah in Iran.
A variety of threats have been identified in this area affecting adversely survival of the species with poaching and habitat loss as the most important. Therefore, with respect to these factors, particularly poaching which has been boosted up recently by local youths in Kalmand, the educational program was started by the Iranian Cheetah Society (ICS). Hence, this project is training people in different age groups associated with relevant problems in Kalmand in order to protect regional biodiversity and important species, especially the big cats.
Initially, negotiations were done with local stakeholders, including Yazd Department of Environment, Ministry if Education, Mehriz Governor Office, etc. Meanwhile, the area's baseline of information was developed composing if the site's socio-economic data. Similar experiences of the past ICS' project in Bafq were also shared with local partners to be more familiar with the project trend. Kalmand's game wardens were recognized to be highly essential in success of the project, so they were asked to prepare the project's goals and outcomes.
Finally, the project was started in local schools, after preliminary knowledge assessment to measure the project's impact after the workshops. Game wardens were also present in the workshops o describe their role for the students. Now, the ICS is planning 6 tours for all local students to visit kalmand and to learn more practically about the animals on the ground. Their teachers will be also trained by the ICS to be more environmental-friendly teachers.
The Kalmand educational project is implementing with cooperation of Yazd Department of Environment with initial funding from Royal Dutch Embassy in Tehran and will last until spring 2011.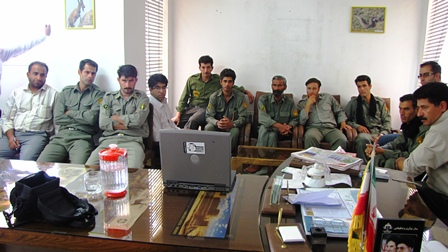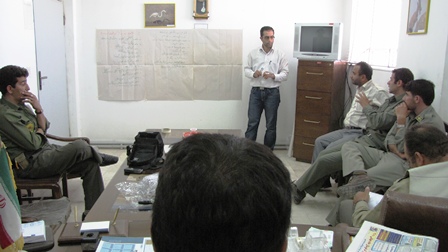 PRA meeting with Kalmand's game wardens