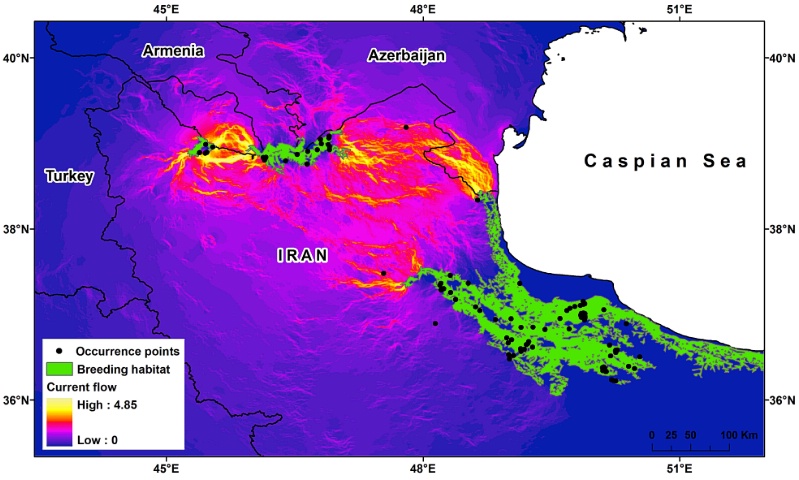 A new study involving the Iranian Cheetah Society (ICS) researchers shows that conservation of leopard populations in the Caucasus is tied to regional cooperation between range countries.
Published in Biological Conservation , the study reveals that suitable leopard habitats in the Iranian Caucasus are likely to be fragmented into two main patches of collectively over 20,000 km2: (1) the Alborz landscape which hosts the larger leopard nucleus and majority of breeding occurrences, and (2) the boundary landscape along borders with Republic of Azerbaijan and Armenia. Only 30% of these landscapes are officially protected. By modeling the connectivity between these two core patches in north-western Iran, the study show that persistence of the leopard population in the boundary landscape and the broader Lesser Caucasus Mountains is dependent on trans-boundary movements through southern Azerbaijan. Thus, it is a priority that international collaboration secures the leopard's conservation in the wider landscape spanning the borders of Caucasian countries.
ICS is now launching a large-scale corridor assessment focusing in Gilan and Ardabil provinces to assess the value of protecting the proposed corridors and to delineate priority areas for range-wide leopard conservation. ICS' findings will also be used to support a proposal that Iran Department of the Environment should grant legal protection to certain areas, and to explore opportunities for a regional cooperation between Iran and the southern Caucasus countries.
The ICS' Caucasus leopard project in northwestern Iran is supported by Iran Department of the Environment and World Land Trust.